Google Announces Sunset of Universal Analytics Q&A
This week Google announced it would be sunsetting Universal Analytics (UA). Pay attention, this is the biggest change in Google Analytics since it was launched in 2005 and we have just a little over a year to make the necessary adjustments.
These are big news, perhaps the biggest news since Google Analytics was created. Now that the announcement has been released, it is best to pay close attention to how things progress.
It is not an update, it's a switch.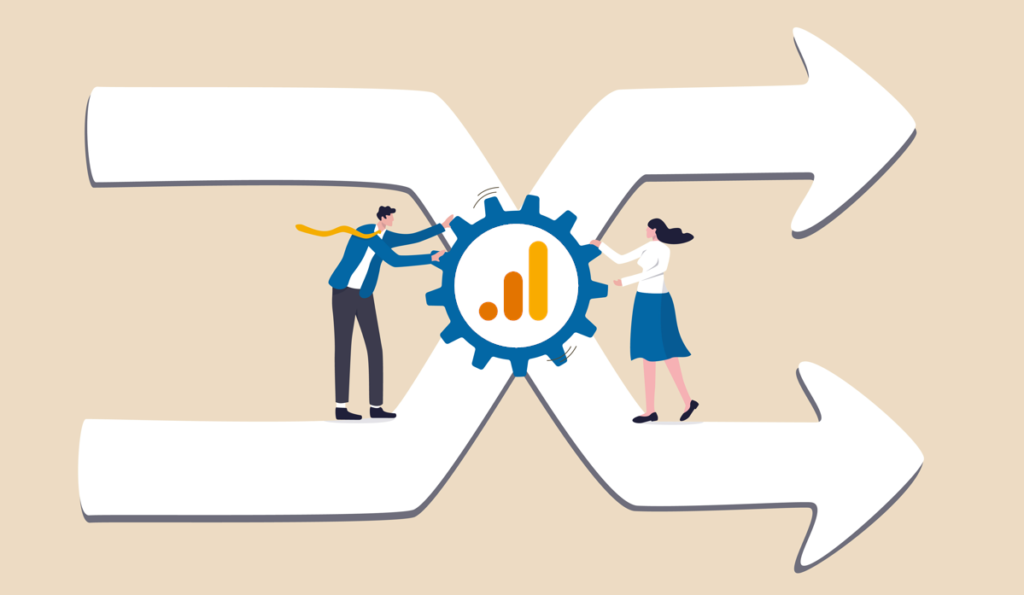 Let's clarify what this change means and provide tentative next steps.
Since its introduction in 2005 Google Analytics has become the most widely used web analytics tool in the world. Millions of businesses use GA as an integral part of digital intelligence. Throughout the years we have witnessed updates, some more significant than others, that have improved the tool. In many cases we procrastinated adopting these updates with very little consequence. Not this time.
Google Analytics 4 (or GA4 for short), positioned as the new generation for Google Analytics, is very different. The changes are for the better, but still, they are big changes. I believe it is best to think about GA4 not as an update, but as a completely different tool with the same name and branding as Google Analytics. This mindset will better prepare businesses for the transition, and help avoid frustration.
What does "sunset" mean?
It means data will stop being processed after the announced date, currently July 1, 2023. In other words, it means reports will stop counting pageviews, transactions, goals, etc. Organizations will still have access to historical data, but in "view only" mode. No editing. No new data.
Why the change to GA4?
Google Analytics was built as a web analytics tool, over 15 years ago – that's before the iPhone even existed. While they have made great improvements, the industry has evolved beyond what Google Analytics was originally made for.
Users today journey through various devices and platforms. Brands are expected to understand these journeys interconnecting and leveraging a variety of technologies. GA was not built with these things in mind, and while previous updates made spectacular improvements, it was just time to reimagine the approach from the bottom up.
Is GA4 at par with Universal Analytics?
GA4 and UA are different tools, so it is difficult to make a 1-to-1 comparison. That said, I would say GA4 is likely not yet at par with the current features of UA. There are features in GA4 that are not available in UA that make the change worth while for most. Regardless, ready or not, it is time to dive into GA4.
What about 360 customers?
Google Partners are already communicating with their clients about this change. But in short, Universal Analytics 360 customers can now upgrade to GA4 360. Once customers are onboarded in GA4, all UA 360 features will remain available for 6 months. After that UA properties will be downgraded to standard UA.
What should be next steps?
If you have a small operation or use GA sporadically, then start adding GA4 to your sites if you haven't done so. If you have already, start testing the waters using GA4 data to report on your business. Implementing GA4 is one thing, change business practices is a whole different ball game.
For those with organization with more complex environments, get in touch with a Google Marketing Platform partner to help with this transition. It will avoid stepping into landmines and other hurdles that will delay your transition. Remember, GA4 is still under development. This time may be a good opportunity not only to revise your analytics implementation, but your whole digital team structure.
Consider the following:
GA4 and UA implementations are different. Sit down and map your business requirements to GA4, not your current UA implementation. Trying to mimic your UA implementation will likely set a faulty foundation.
GA4 can be implemented in web and app with the same schema. This is one of the best features of GA4, and perhaps the harder to get used to. The next year will be a good opportunity to review your web and app analytics, and also bring these two teams closer operationally.
With more flexibility in GA4, comes the need for more documentation.
Conclusion
GA4 is undoubtedly better position for the future. I have confidence it will keep Google Analytics in the forefront of the digital analytics space considering all the improvements in store for the Google Marketing Platform.
However, some, including myself, believed we would have more time to maneuver this transition. Bigger organizations find comfort in making big changes like this when there is a longer track record.
Then again, speed is sometimes the necessary ingredient for this type of transition.
If you have any questions or need help with this transation, Ayudante has helped big and small organizations implement GA4 in web and mobile. Don't hesitate to reach out to us either in Japan or North America.