Google Marketing Live 2023 Takeaways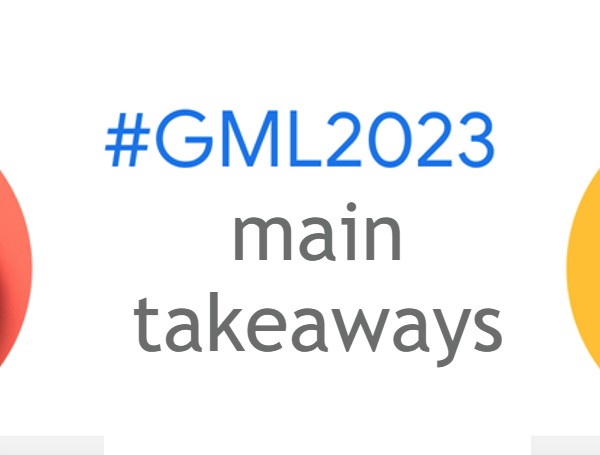 Google Marketing Live Keynote just happened yesterday. Keynote speeches were streamed live sharing some interesting product launches, features, and the overall vision for Google in this space. Here are a few noteworthy comments I think everyone should be paying attention to.
There were four key themes mentioned throughout the 1.5 hours of speeches, demos, and product announcements over and over. They were:
Video (YouTube): A Heavy Hitter
The talk was kicked off by Philipp Schindler, Google's Chief Business Officer. Right off the bat he emphasized how video keeps gaining ground in the digital marketing space. People seem to like video, and they are using it for all purposes, from entertainment, to research, and shopping.
In this sense, video has become a key player in most solid digital marketing mix strategies.
YouTube, as the rest of the Google Marketing stack, is using artificial intelligence not to serve relevant content, but also to help content creators create assets.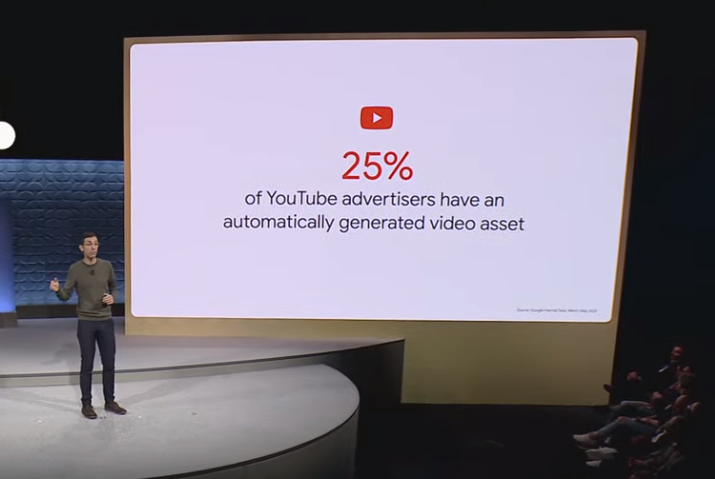 Artificial intelligence: Now In Everything
AI was mentioned at least once every minute, it felt like. All presenters made it clear, artificial intelligence is taking the wheel for most things. In YouTube, AI is helping algorithms. In search, AI is going to make interactions more conversational – chatGPT (or more appropriately, Bard style). In text ads, AI is going to help create campaigns. In image ads, AI is now going to help build creatives. In bidding strategy, AI is going to help decide where and how budget is spent (Performance Max campaigns). In attribution, AI is going to say who gets the percentage.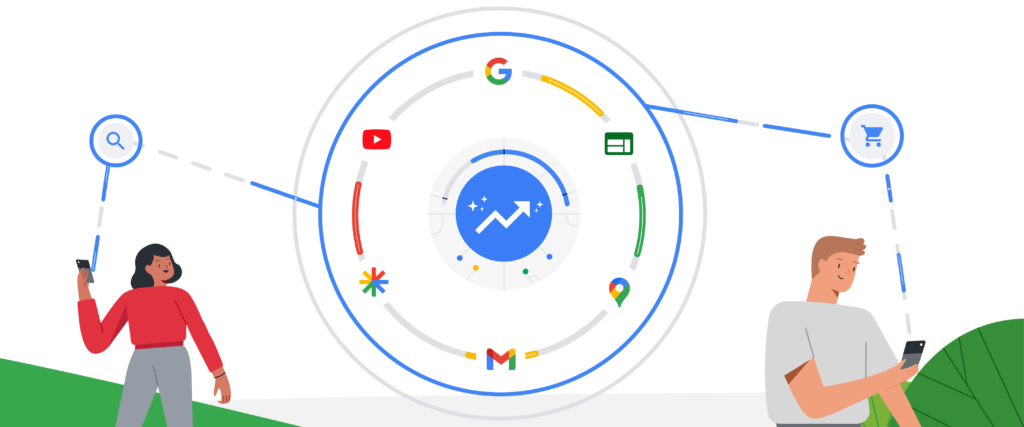 In other words, AI is now going to help with everything. For those of us who like to understand things to their most basic component, well, we might want to learn how to let go. As much as they move away from the "black box" concept, this is basically what's happening.
To be fair, the reasons to let AI take a crack at attribution are valid. The digital advertising ecosystem has grown complex enough that is almost impossible to map a single user journey. Google put forward an interesting statistic on this topic: 61% of holidays shoppers use 5 or more channels to shop.
From Search Engine Optimization (SEO) to Artificial Intelligence Optimization (AIO)
As a side note on this move towards artificial intelligence, AIO, at least in that name, is not a thing… yet. However, let's remember that artificial intelligence, if I may oversimplify, is an algorithm – a series of steps taken by a computer to determine a result based on available data. This might be a whole post on its own… In my experience, most teams assume data is there like berries on a field, ready to pick. In reality, most teams have inconsistent, missing or just incorrect data.
The importance of doing everything within reason to make information computer friendly – i.e. naming images, structuring text appropriately, proper keywords, etc – will make the difference in people's experience with AI. I cannot wait to hear stories.
The team shared a good resource to ensure you have, at the very least, a foundation for AI: g.co/ads/ai-essentials
First-party Data
There was a notable emphasis on first-party data. Next year Google will start rolling out its plan to deprecate third-party cookies. Google has been talking about deprecating third-party cookies for some time, first in 2021 and then 2022.
This move will give the advantage to those who have plenty of first party data. This effort should translate into brands positioning value and trust for customers to provide their own data.
Google Analytics 4
Google Analytics is becoming a key variable in this artificial intelligence soup that is the Google Marketing Platform. A properly configured Google Analytics implementation is going to help shape the effectiveness of other tools. For example, the integration between Google Analytics, Google Ads, DV360 will start working together with products like Performance Max campaigns.
We should take this as a cue to ensure GA4 implementations go beyond the basics. Also, we are already noticing implementations that are choosing to follow original event names instead of the recommended ones – i.e. "product_detail_page" rather than "view_item". One might think GA4 is recommending these events not only to populate reports, but also to feed their AI algorithms as to yield results based on these events.
Conclusion
It may be tempting that the time has come to sit back, let artificial intelligence loose, and let the magic happen. No, AI is just shifting our focus – we now need to work on understanding the moving pieces and ensure the different data intakes for AI have the best possible data.
One more quote from the Google team that hit true, "when technology changes the world, who you partner with is everything."
You can also find Google's summary with links to each point discussed in the Google website, here.
If you have questions on any of these topics. Contact us today.