One Year Left for Google Analytics Universal, Don't Delay Moving To GA4
In one year from today, July 1, 2023, the current version of Google Analytics will stop collecting data for most of users. (October 1st for those using Google Analytics 360).
By now most Google Analytics users have noticed the sticky blue banner on the top screen of all Google Analytics reports announcing, "Google Analytics Universal will no longer process new data in standard properties beginning in July 1, 2023." While annoying (can't permanently dismiss it), it is best we understand this message.
I would argue this announcement does not communicate the real urgency of the situation. It should say "Google Analytics Universal will no longer collet new data in standard properties, and by early 2024, you will lose access to these reports."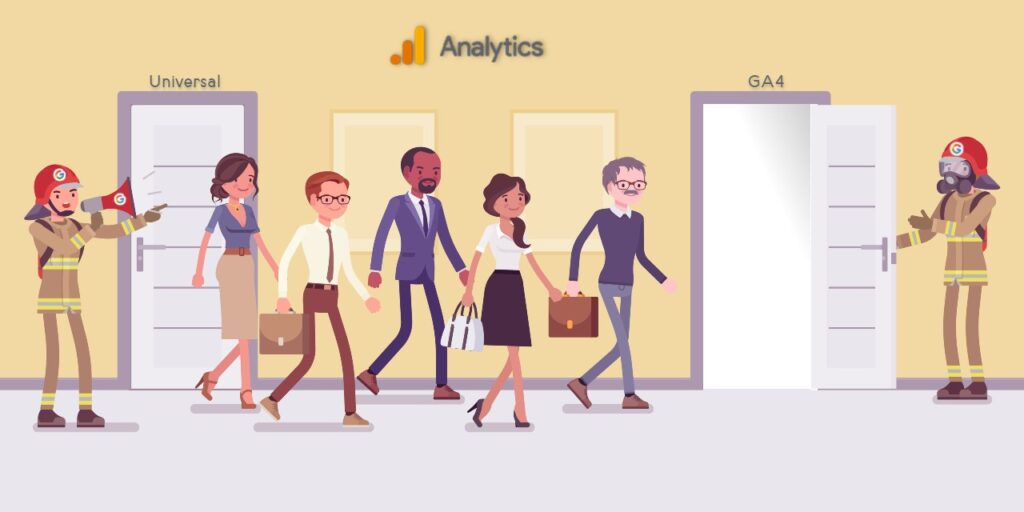 Why you should not delay moving to Google Analytics 4 (GA4)
We've talked about it before, GA4 is not an upgrade to GA Universal – it is better to described it as a completely different tool with the same name. Yet, many are treating this as an upgrade that can be finetuned as time goes by – it is not, and you cannot.
Many organizations are expecting a seamless transition we have experienced with previous upgrades. This one is different – data will not transfer, reports are different, and you need to reimplement tracking. For those hoping to mimic current Google Analytics Universal implementation to GA4, it may be possible, but doing so may result in frustration, disappointment and at the very least, a missed opportunity to really leverage Google Analytics 4 to its full potential.
Consider the following challenges for those who are not taking action now.
Year-over-Year (YoY) comparisons will be very challenging or impossible.
For those who have not started the transition, next year it will be impossible to do a YoY comparison. In reality, even those organization that have just executed the basic double tagging – just adding GA4 tag along with their GA Universal implementation – will encounter challenges.
Unlike GA Universal, the planning and solution designs for event names, parameters, linking with Firebase projects, are pivotal to how data is collected. Proper planning takes time. And if you are venturing into this transition without experts on board, it is best to factor in some time for trial and error.
Matching the business to the tool, not the tool to the business …will take time.
Many organizations are going to be tempted on "moving" their current implementation from Universal to GA4 by trying to mimic the reports rather than taking a moment to understand the new approach. We are seeing many teams prefer to map events and custom dimensions in GA Universal to events, parameters, and user properties in GA4.
Sometimes this makes sense, but in many cases this might create the illusion of saving time. This maneuver may end up turning legacy reports in GA Universal into nonsensical reports in GA4 or, at best, miss the opportunity to really leverage GA4 to its full potential.
Planning and, to some extent, rearticulating your business needs into words everyone can understand will help your GA4 implementation.
Winning hearts and minds …will take time.
Updating processes and reports will be tough but updating processes and reports while not having trained and end users who have bought in to the transition, will feel like a long bad dream. Those who have been in businesses that have migrated web platforms, analytics tools, dashboarding software, might relate.
What Steps Should Be Taken Now?
At the very least, ensure double tracking.
Double tracking has been the official recommendation from Google. We agree. Make sure you go through the steps of creating a GA4 property and, at the very least, add the tag on your website – even if you have not done any solution design or strategized about it.
This will not be enough for a smooth transition, but it will help introduce teams to the new UI, reporting and different capabilities of GA4. It will also start to set expectations, surface differences between current and future reporting, as well as concerns about features that are present in Google Analytics Universal but have not yet been released in GA4.
Bring mobile and web analytics closer together.
Google Analytics 4 was driven by the need to modernize the tool and increase combability with other tools or systems that organizations may be using, but the compatibility with mobile analytics might be the most notable. Consider the first name for the new Google Analytics 4 when it was first launched in 2019, Google Analytics App + Web!
Mobile app analytics now share the same analytics schema than web. Until now, app analytics was focused on events and web was focused on sessions. With GA4, web analytics is now just like app analytics, event-based. Those organizations that use mobile apps, for example, can now bring together their mobile and web development teams to work with the same measurement schema and potentially aim towards the same or similar KPIs.
Schedule time to understand Google Analytics 4, research or get help.
Let us assure you, properly implementing Google Analytics 4 will take time, likely more time than expected. It is important to start digging into this sooner than later. Just consider the three points below.
Creating a solution design – i.e. defining the tracking requirements – takes time. Ideally, a top-down approach, restating business goals (top), will help define how to setup GA4 (down). The other way around is when we explore the tool's capabilities, get excited, and try to find a problem that matches. This is tempting but counterproductive.
Updating or Introducing New Processes takes time. Consider GA4 introduces new dimensions, retires others, the reporting is quite different. Teams will need times to recreate reports. The free tier of GA4 now is able to export raw data to BigQuery. This is likely going to be a welcomed change by organizations that are considering blending data with CRM systems, Email databases and other tools. It is also going to be welcomed by people who know how to leverage SQL for dashboards.
GA4 is still under heavy development. This means your teams will need keep making tweaks and brainstorm approaches to cover some of the issues while they are fixed, or features that are available in GA3, but not in GA4.
Finally, consider getting help. Google Partners like Ayudante have the training and experience to help organizations in this journey. It will be an investment worth making.
We would be happy to help. Contact us if you have any questions around Google Analytics 4.