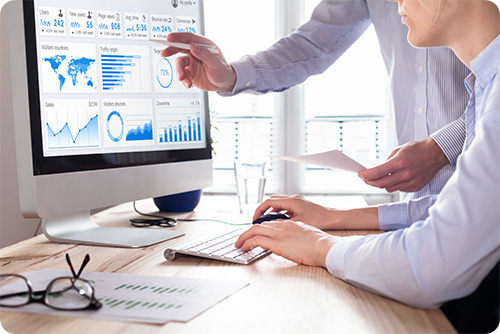 Search Engine Optimization Management (SEO)
We understand that SEO can be overwhelming, particularly for the Japanese language and related context. At Ayudante, we do more than play with keywords in Japanese—we help our clients by providing data-driven strategies that work to precisely insert their brand directly and organically into the Japanese landscape. 
Learn more about our SEO services.
Analytics Strategy and Consulting
Technology is increasingly allowing us to collect more and more data, but heaps of data also means more silos, more noise, and more time extracting insights. Against that backdrop, we help organizations develop a strategy that lets their teams create an infrastructure that organically allows for decision-making, governance, and privacy protection.
Paid Media Marketing
Reaching highly targeted audiences in today's digital space is not easy. Ayudante can help your team navigate this changing industry so as to make sure you are using customized strategies that get results backed by data.
Mobile App Analytics
Mobile apps are now standard for driving user engagement, personalization, and exclusive content, so understanding your app data from a macro viewpoint within the greater digital ecosystem is essential. The industry at large is moving toward making app and web analytics compatible, and having a solid strategy is key toward navigating within your business sphere.
Google Analytics 4
Google recently announced that Google Analytics will be shifting all properties to Google Analytics 4 within a few years. This change is like no other update ever seen. Not to worry though—Ayudante can prepare your team and analytics strategy for this major transformation.